Erbil Citadel
Inscribed on the World Heritage List in 2014
By Dr Mónica Palmero Fernández
Erbil Citadel is one of the longest continuously inhabited settlements in the Middle East, and possibly the world. The imposing ovoid-shaped tell on which the modern citadel lies is clear evidence of a pattern of occupation by many generations of people living and rebuilding on the same spot. The earliest evidence for its occupation dates to the 5th millennium B.C., and possibly earlier. The settlement grew in size and importance over time, with its ancient name Arbela appearing in some of the earliest cuneiform sources from the site of Ebla in western Syria ca. 2,300 B.C. The city gained particular importance during the Neo-Assyrian period, becoming a trading hub with an important religious complex dedicated to the goddess Ishtar of Arbela.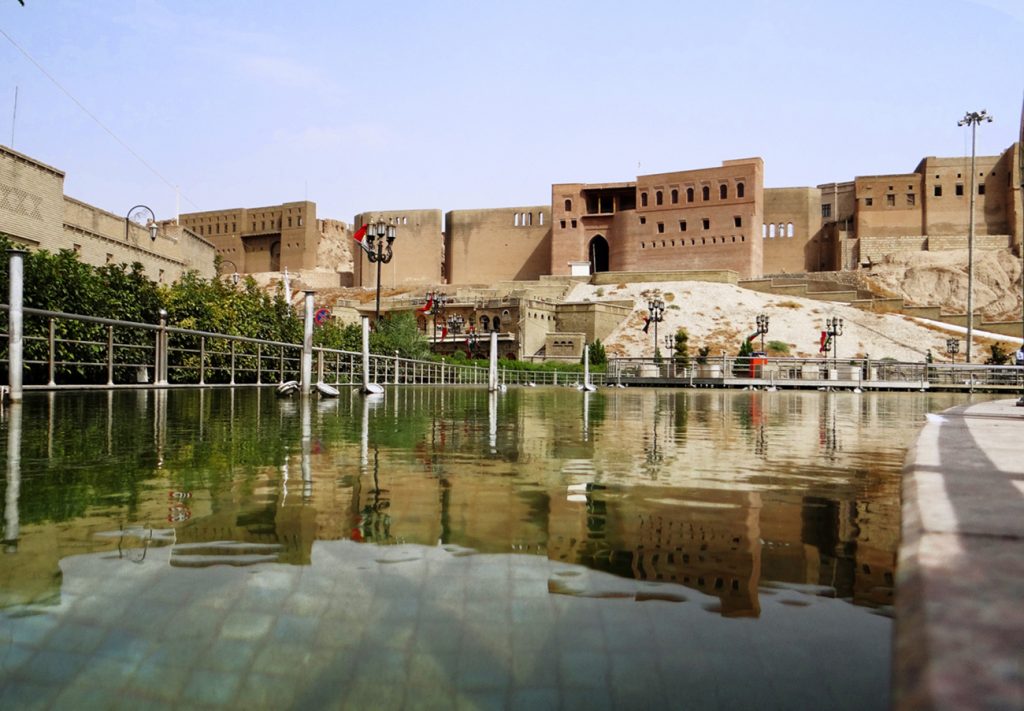 The city maintained its religious status under the subsequent Sassanian period and the Abbasid Caliphate, when it became an important centre for Christianity after its adoption by the Roman Empire. Since that time, Erbil remained an important seat of Christianity until the 9th century, when the bishop of Erbil moved its seat to Mosul. Through upheaval and conflict, Erbil Citadel remained a buzzing place until recently. In November 2006, all but one of the families living within its walls were evicted as part of a large project to restore and protect the historic character of the citadel. One family was allowed to stay so as not to break the 8,000-odd years of continuous habitation of the site.
Erbil Citadel was entered onto the World Heritage List as an outstanding example of a multilayered archaeological mound, as well as for the historic character of its urban layout and architecture dating to the Ottoman period. The fact that beneath the modern town lies an intact archaeological tell offers unparalleled future potential for research that contributes to its historic authenticity.
As of 2018, archaeological investigations and conservation efforts at Erbil Citadel continue to be underway, although these efforts require further economic commitment from the government of the Kurdistan Region of Iraq for its revitalization budget. Surveying, documentation and mapping of buried archaeology is ongoing through a collaboration with the Sapienza University of Rome under the Italian Archaeological Mission in the Kurdistan Region of Iraq. Other international teams have also operated in the city, including a German team from the Technical University of Berlin and the German Archaeological Institute that investigated two Late Ottoman trade buildings in the Citadel, another German team from the German Archaeological Institute that investigated the Assyrian Tomb uncovered in 2008, or a Czech team from the University of West Bohemia Plzen that investigated the urbanization process of the city between 2006 and 2010.
UNESCO webpage
http://whc.unesco.org/en/list/1437
Kurdistan Region of Iraq website for Erbil Citadel
http://www.erbilcitadel.org/
German Archaeological Institute Erbil Project
https://www.dainst.org/projekt/-/project-display/59870